Canadian Skin Patient Alliance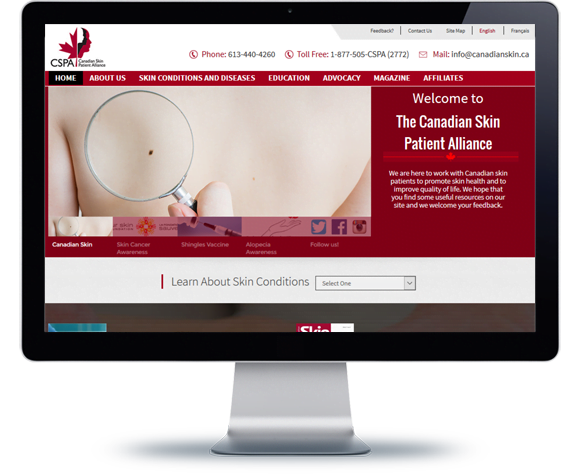 Support for Skin Patients and their Families
The CSPA first came to us in 2011 looking for a partner who the could develop a long-term relationship with. Today, they continue to turn to our team for innovative ideas.
The CSPA needed a firm that experience in both the non-profit and private sector arenas, who could bring depth of experience to their rebranding and web site redeployment. CSPA needed a web site that met their mandate be a resource and community for Canadians living with skin conditions, disorders and trauma.
As part of their social engagement strategy, we implement an advocacy system that enables skin patients and their families to directly reach out to locally elected officials across Canada, to let policy makers understand what it feels like to live with a skin disease.
We planned and built a web site that enables CSPA to meet their goals: a site that is a valuable resource for their target audience, presents information in an easy-to-find format, and achieves their conversion goals of getting visitors to engage with CSPA, and at the same time is easy to manage internally.
Advocacy Program
Online petition system allows website visitors to easily contact their MPs. Process takes only 3 minutes. The  objective is to increase awareness among elected politicians who will then make decisions to positively effect the lives of those living with skin disease.
Social Media / Digital Marketing
Ready to chat about your project?