Friends of the Canadian War Museum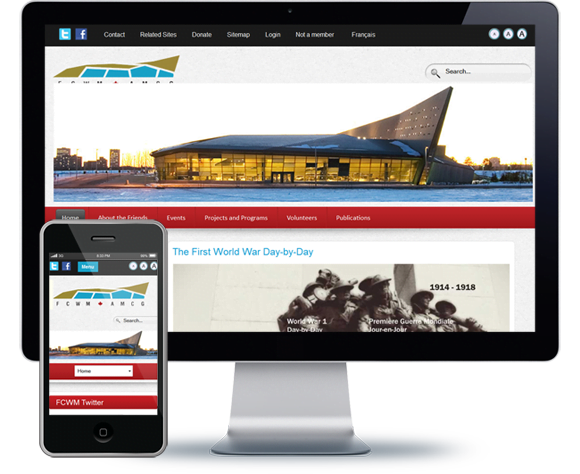 New Online Experience for Members and Visitors
The  Friends of the Canadian War Museum (FCWM) website no longer meet the needs of the organization and they wanted a complete redesign. Key objective was the desire to improve member value, and streamline the management of membership services including membership renewals.
The completed bilingual website was implemented in the Joomla open source CMS. The design is mobile friendly and can be viewed on any device. Training was provided and volunteers are easily able to update the site on a regular basis. And training can be provided anywhere! One volunteer was on an extended vacation in Florida and MarketAccess provided remote training. After a one hour training session, he was up and running.
Onsite consulting at the start of the project ensured the completed website fully meet the needs of FCWM and it's members.
Design considerations were discussed and a wireframe provided before design started.
Careful and through requirements analysis was completed for the membership management system. Working within a tight budget, we first documented the desired features and then looked at the best approach to meet those requirements. Customizing  CiviCRM provided the most bang for the buck. Customization and creation of interfaces provided all the features desired in a easy to manage system. Existing data was ported to the new application prior to launch.
The completed website was enthusiastically embraced by FCWM. Volunteers easily manage site content and users. Members and new members support the organization with online donations that are automatically charged and deposited.
Mobile - Responsive Design
Online Donation and Membership Management
Customize CiviRM to provide FCWM complete donor management and online donation functionality. System is used to generate tax receipts meeting CRA requirements. The system allows FCWM an easy method to keep in contact with donors and provides the ability to deliver via email newsletters, custom email, and more.
Social Media / Digital Marketing
Ready to chat about your project?