Nunavut Wildlife Management Board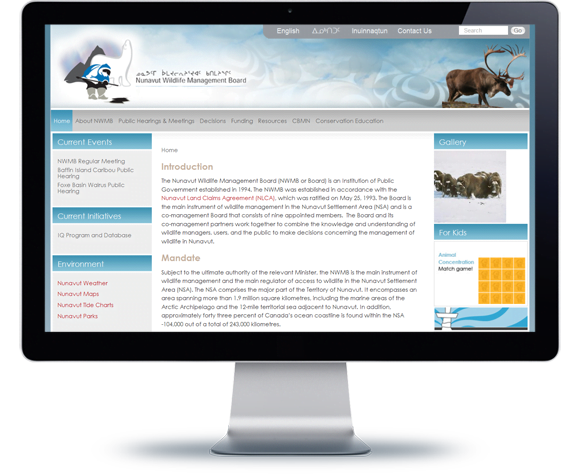 Managing Wildlife in Nunavut
We've had the pleasure of helping NWMB with their online web strategies for over 6 years. As a result of our reputation with the implementation of OpenSource solutions, NWMB invited us to bid on their first-ever CMS-based web site.
The project involved a complete refresh of their online branding, the migration of thousands of hearing and meeting documents, and the implementation of a permissions-based document management solution. We helped NWMB complete a content review, to ensure only relevant content from their old site was made available via their new site. Our content implementation team consulted on the use of web-friendly syllabic fonts, and deployed content in 3 languages (English, Inuktitut and Inuinnaqtun).
We developed custom backend features to allow for the management of a large database of Hearing decisions.
Our strategic planning  ensured we identified NWMB's key objectives and implemented a solution that met these requirements — resulting in a web site that continues to meet NWMB's goals and objectives… NWMB staff are thrilled, as they can easily manage all day-to-day site management activities, with full confidence we are there to help when they need us. Proof is in the pudding, as they say, and we're thrilled to continue to provide NWMB with consultation, support, and hosting services.
Ready to chat about your project?